"You simply don't become official supplier to world aviation by chance"
A specialist of technical watches, Breitling has played a crucial role in the development of the wrist chronograph and is a leader in this complication. The firm has shared all the finest moments in the conquest of the skies thanks to its sturdy, reliable and high-performance instruments. One of the world's only major watch brands to equip all its models with chronometer-certified movements, the ultimate token of precision, Breitling is also one of the rare firms to also produce its own mechanical chronograph movements, entirely developed and manufactured in its own workshops. The company is moreover one of the last remaining Swiss watch brands independent of any watchmaking group.
SUMMIT WEBCAST #3
See Breitling's CEO Georges Kern Present the New Chronomat 32 & 36. This watch has been specially created for women who embody style, confidence, and an active lifestyle just like our Spotlight Squad – Charlize Theron, Misty Copeland, and Yao Chen.
#SQUADONAMISSION
Breitling celebrates the collective spirit of squads united in pursuit of their mission. Fueled by camaraderie and driven by purpose, we accomplish more together than we could alone. Over the coming months we will feature a series of exceptional squads made up of leading figures from the worlds of aviation, exploration, cinema, and sport.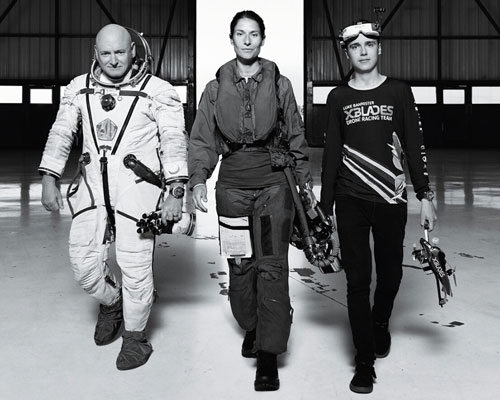 AVIATION PIONEER

SQUAD
Breitling`s new Aviation Pioneers Squad is made up of three remarkable individuals who represent different airborne disciplines but all define an incredible new age of adventure in the air: Scott Kelly spent a year of his life looking down at the Earth from the International Space Station (ISS). Commandant Rocío González Torres has logged more than 1000 hours of flight time in a fighter jet and is proud to be a role model for girls and young women determined to conquer the skies. Finally, Luke Bannister excels in a whole new aviation discipline; he won his first World Drone Championship at the age of 15, and has been on a winning course ever since.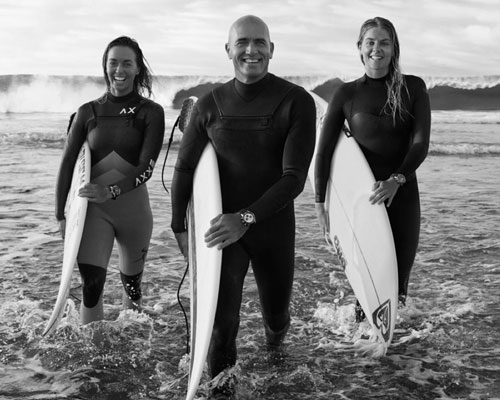 SURFER

SQUAD
Breitling's Surfers Squad members reflect the dynamic values of the brand: action, purpose, and pioneering spirit. They also share our commitment to maintaining clean oceans and beaches. These surfers personify Breitling's passion for the sea which, along with air and land, is one of our thematic pillars. The squad includes American Kelly Slater, the most successful surfer of all time, as well as two brilliantly talented Australian women, Stephanie Gilmore and Sally Fitzgibbons. Breitling has also enhanced its environmental engagement with a partnership with Outerknown, a sustainable apparel manufacturer co-founded by Kelly Slater.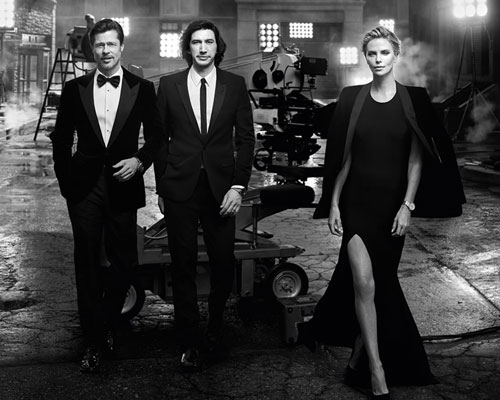 CINEMA

SQUAD
Three of the world's most distinguished actors – Brad Pitt, Charlize Theron, and Adam Driver – have committed their prodigious talents to the Breitling Cinema Squad. These stars have achieved incredible acclaim for their individual achievements but in the context of their #squadonamission roles, they are united by their shared passion for their profession.
In partnership with Breitling and supported by their Premier watches, they will work together on a shared mission to reveal some of the mysteries behind their remarkable craft.